Interview. Meet Laurent BOSCHER, Director of Colinière Artificial Insemination Center (AIC)
27.09.2023

The SCEA de la Colinière artificial insemination center (AIC) was established in 2014 to breed the Piétrain NN (non-sensitive to stress). We decided to meet with the director of AIC La Colinière, Laurent BOSCHER. He has been breeding Piétrain pigs since 1998 and builds his work on three objectives: improving genetic quality, sanitary conditions, and customer satisfaction. Research and innovation have brought him excellent results (BLUP) and high genetic characteristics in recent years. For this reason, we decided to meet Laurent and talk about new trends and hot spots in pig production.
Hello Laurent. Can you tell us about your production site?
Our boar breeding includes 88 boars with 100% Pietrain NN (negative stress). We sell approximately 165,000 doses per year: 50% PCAI and 50% traditional 75 ml doses and 2.2 billion sperm in total.
We also have a selection farm of 220 Piétrain sows for the self-renewal of the herd and sale of boars for AI centers and export.
How many people work on your production?
Six people work in my team: 4 responsible for the selection farm and two employees work at the AI center. On Monday and Friday, two people from the selection farm come to strengthen the team at the AI center.
What about the quarantine? What are the features of the production of young boars?
We have two quarantines.
Pre-quarantine:
Pietrain's puberty is later than other breeds, and adaptation begins at 7 months.
Genetic progress (In 1998: 165 days of age per 100kg of live weight, in 2023 120 days) requires us to control nutrition because the animal's puberty remains unchanged at 7 months.
During the pre-quarantine, we carry out several activities:
1. Off test: weight, back fat with Exago, animal phenotype
2. Visual observations of ejaculate volume and concentration
During quarantine, other assessments are carried out:
2. We check the parenchyma of the testicle (Ecotext program).
3. Using ultrasound (Exago), we look for cysts and various potential pathologies in the testicles and epididymis.
4. Thanks to the Doppler Easy Scan Go (CFM option), I also check the area of blood vessels between the testicles. According to my observations, the more developed the vascular, the better the sperm volume will be.
5. Analysis of sperm concentration with IVOS II. If we are below 50 billion, we consider that it will not be a good producer. We also analyse sperm abnormalities and motility. We consider the boar to be a good semen producer if there are more than 65% normal sperm in the ejaculate and 80% motile. We check two ejaculates 10 to 15 days apart.
Following the tests, we will cull approximately 20% of the boars. Out of 10 boars, one is culled for sperm quality and one for various pathologies such as cysts.
What made you successful?
I wanted an all-in-one solution, full contact, and support.
This is why I chose to work with IMV Technologies 10 years ago. For example, Collectis allows the automatic collection of semen from 90% of boars. Then, the rest of the laboratory automation makes it possible to produce 2500 doses in 4 hours with one person in the laboratory and 3 in collection with full traceability thanks to the eSmile.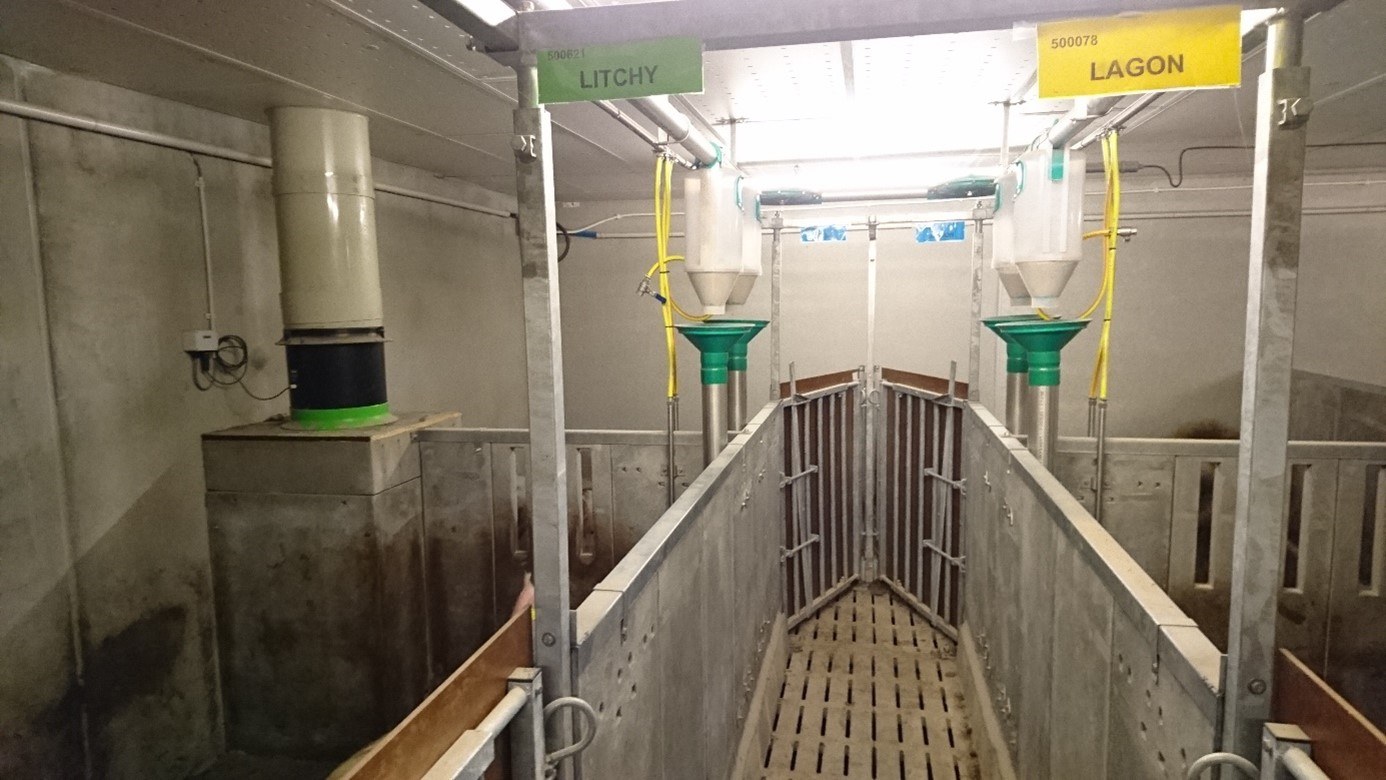 I know that you work to reduce bacterial contamination of semen. Why?
You are working to reduce bacterial contamination of semen. Why?
My partner Cooperl Nucleus has a global strategy of raising pigs without antibiotics. Agreeing with this approach, four years ago, I participated in the trial of the use of a medium without antibiotics and bacteriostatic bags, the Bactibag. The trial was carried out on three farms and the farrowing rate was the same with both types of medium, with and without antibiotics. During the experiment, we constantly monitored the semen of each boar, in partnership with IMV technologies, to know the number of bacteria and the type of bacteria present. An excellent health level was essential for this trial.
What strategic choices did you make at the end of this trial?
When using antibiotic-free media, sperm doses could only be used for three days, and I structured my logistics plan to send doses once a week. Some clients use semen doses for two weeks without affecting the technical results. However, I kept the bactibag to have an additional guarantee for my customers.
What production processes do you have in place to limit bacterial contamination?
The design of the building allows washing and disinfection per room of 8 boars at least once a year. This construction costs much more to install but avoids deterioration in the quality of boar semen during washing and disinfection. Cleaning and disinfection of the collection area and waiting area are carried out daily. I change the active ingredient in the disinfectant two to three times a year to avoid bacterial resistance. Mechanical cleaning is done on the day of semen collection. Ventilation is organized so that air passes through the floor so that the floors are always dry and there is no dirt on the bellies of the boars to limit bacterial contamination. In addition, the air filtration system is very effective in the center and the laboratory to limit any risk of external contamination by the air. An important factor is that the young boars come from our breeding farm and there is no import from third-party production. To limit the risk of bacterial contamination during collection, I use 100% stainless steel dummy.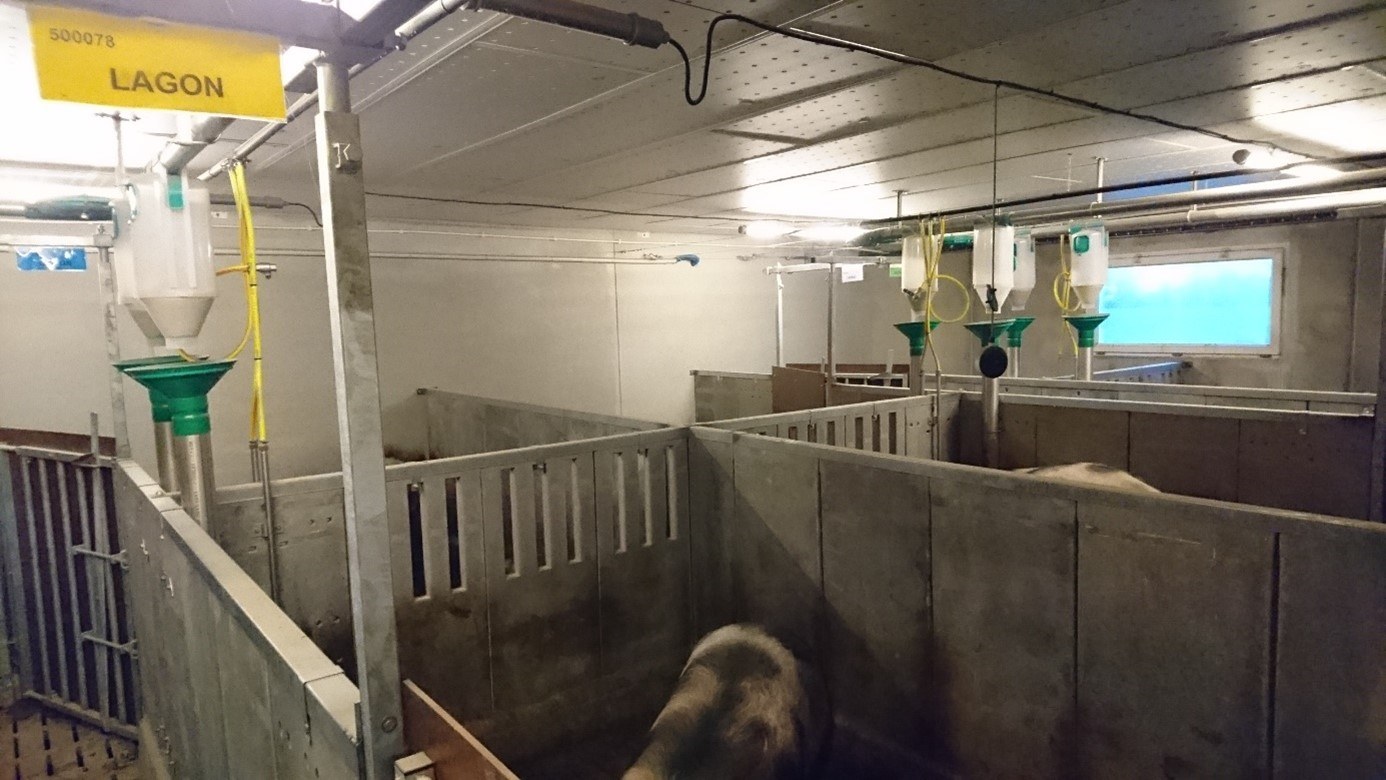 How often do you carry out bacteriological checks?
I check the bacteriology on a dummy once a month on the production site
Interesting fact, semen collected by hand always has higher bacterial contamination than semen collected with Collectis.
What about the production of sperm doses directly in the laboratory? Have you changed anything at this level?
I use disposable consumables as much as possible. We use the GTB 1000V3 filling tubes for a maximum of one month because microcracks are created inside the tube during use, washing, and disinfection, which increases bacterial contamination.
It is also essential to organize the space between receiving and sending ejaculate. All our processes take place sequentially: reception, analysis, dilution, packaging, cooling, and shipping. In addition, the laboratory is equipped with a stainless-steel bench raised above the ground to facilitate disinfection work.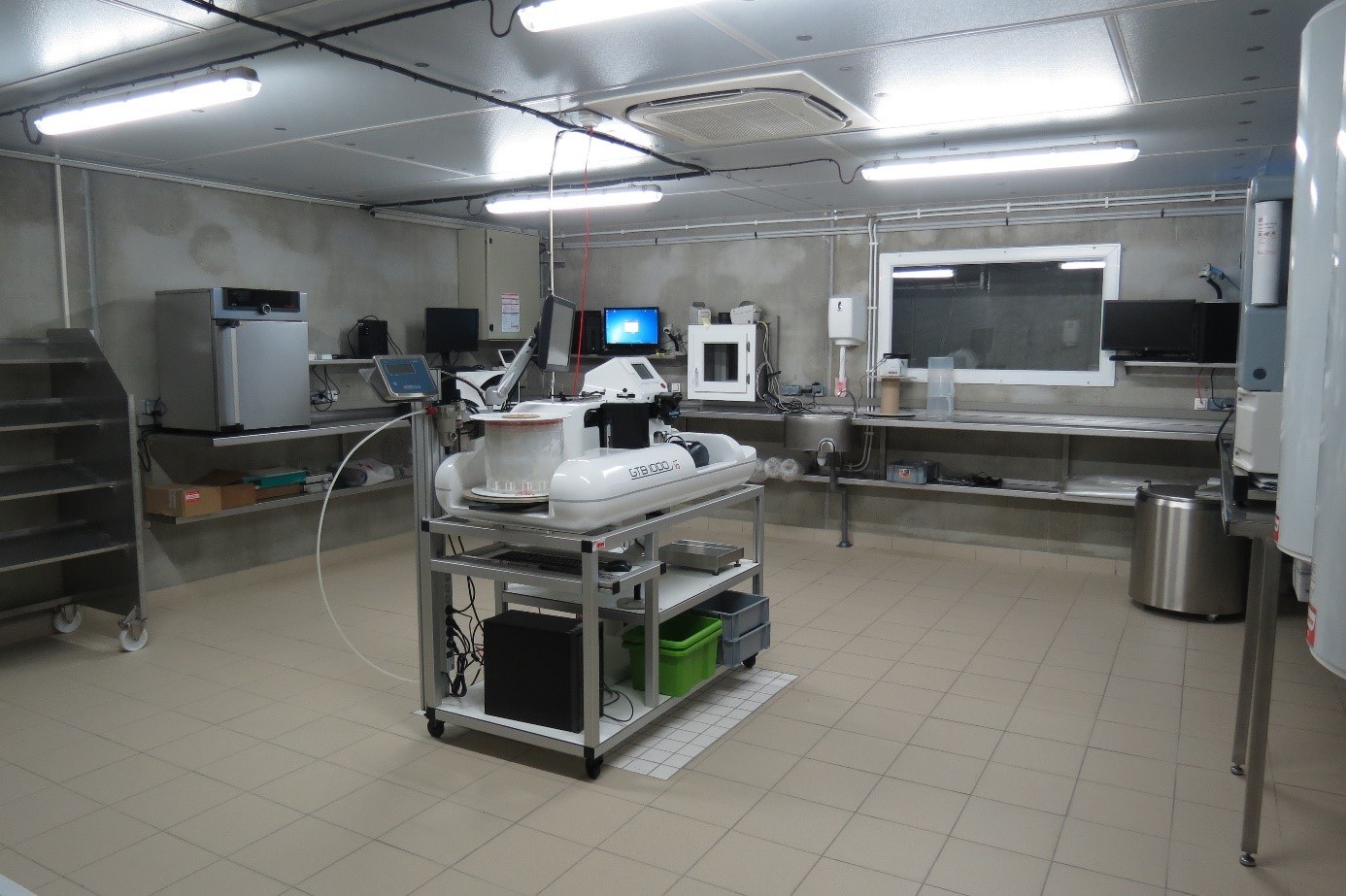 For your production, you use NUTRIXcell Ultra and Bactibag V2. What are the benefits for you as a semen dose producer?
The NutriXcell ultra and Bactibag v2 mix are for me the best security for my clients. Even if there are antibiotics in the medium, the Bactibag still acts as a "safety cushion" if a bacterium suddenly shows resistance. This is also my competitive advantage: I only offer customers a high-quality product.
In addition, Bactibag extends the shelf life of sperm doses compared to conventional bags. This allows me to deliver doses once a week. This approach allows me to optimize my logistics and respond to CSR procedures.
Thanks to this, I organize the process according to the timetable for collecting the boars, and not according to the timetable for sending out the semen doses. This has allowed me to reduce wasted semen doses to 3% and, as I follow a strict boar collection schedule, we reduce the number of abnormalities sperm that appear due to frequent collections or abstinence.
What benefits have your customers seen?
My clients reduce the cost of transport. Because delivery only takes place once a week. Additionally, they can easily plan the entire production week based on the sperm doses they received at the beginning. We have clients who use doses for two weeks and the results are no different than those who receive doses once a week. We also share the results between breeders connected to a WhatsApp group.
What is the furthest distance you send sperm doses?
95% of customers are located within a 300 km radius of La Colinière. We deliver the doses in a special temperature-controlled vehicle at 17C. They are then delivered to the customer: 50% in a 17C air-conditioned cabinet and 50% in insulated boxes. If the temperature is above 24°C, I call customers 30 minutes before delivery to ensure that the customer is available to put them directly in the box to guarantee the cold chain of 17C to ensure semen quality. It is important to understand that my clients are my partners; we trust each other completely. We even have an email group with clients sharing their results, and some have up to 100% pregnant gilts and 90-96% sows.
If we talk about the farthest shipment, it is China. We prepare the doses on Monday, and the customer receives them on Thursday and uses them for a week. The results are like those obtained in France; this client achieves a 90% ultrasound success rate.
If anyone from another country is interested in our boars or our semen, I will be happy to provide them and expand the list of my partners.
You are a boar breeder open to all producers in the world. Why do you like to share your experience?
When you are open to people, they trust your business more. It also motivates me to constantly improve. Every time I meet new people, we exchange ideas. I also learn and make improvements to my own production. For example, I adapted a process for young boars that I observed during a site visit to Evolution, where I saw how they prepare young bulls. After this visit, I had an idea: isolate the young boars and give them special food after 28 days. They receive this special feed until the end of the quarantine period when they join the main herd. Furthermore, thanks to the visit of a Japanese specialist, I removed soy from the boars' diet, because I discovered that it had a harmful effect on spermatogenesis (increase in oestrogen levels)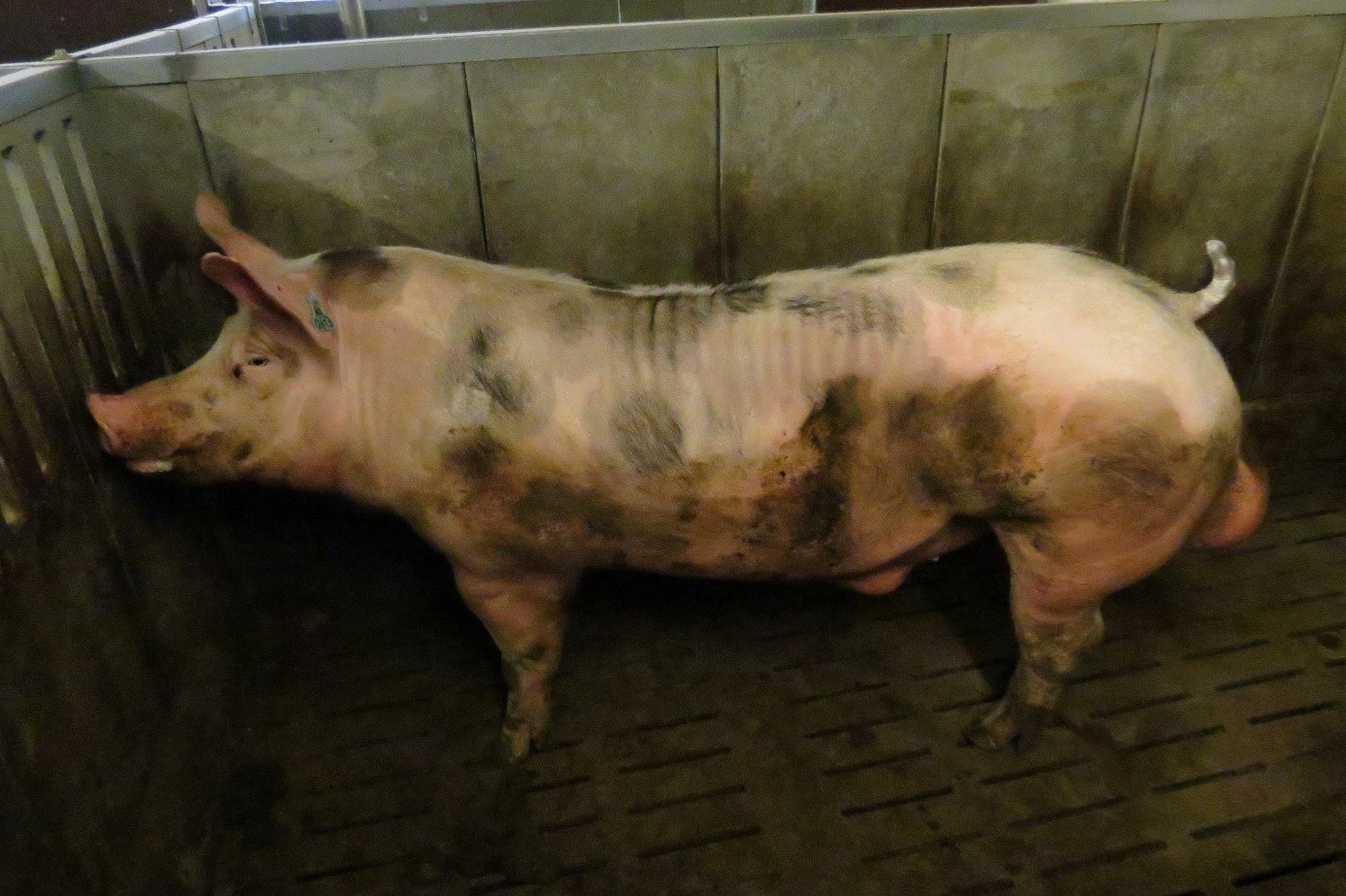 What is your next goal?
The production of boars becomes more and more expensive every year (more blood tests, genomic evaluation, search for pathologies, etc.). The boar begins to be profitable from 2000 doses sold/year. In this regard, several options are available to us to reduce the cost of production:
- Increase the cost of sperm doses for clients
- Get more doses from an ejaculate
- More collections from each boar
As far as I'm concerned, reducing the concentration per dose while still getting the same results is one of my goals for the years to come.
Finally, what is the secret of La Colinière's success?
Delivering a quality product to my customers is my priority. My clients are my partners and are my best support. Customers are looking for responsiveness, which is a pillar of my business.
My team is another. We improve the semen production process collectively.